Zenith watches are a grail piece for many collectors. With the price tag that comes with a rare model, it can take some of us many years before saving enough money to buy one.
Just because you can't have your grail Zenith now doesn't mean you can't get something in the meantime to ease your cravings. In this article, you will learn about 8 Zenith homages to help you hold on while you're saving for your grail!
Zenith El Primero Homages
1. Invicta I-Force 18570
Don't run away! I promise this is the only Invicta watch in this article. It's no secret that Invicta is a disliked watch brand by many collectors, but you shouldn't write off the 18570 so fast.
This Invicta I-Force is a not-so-subtle homage of the tri-color Zenith El Primero, probably the most sought-after version of the collection. The look is very similar, so it's a great way to save a few thousand if you don't care about specs too much.
Of course, this much cheaper price comes with a few inconveniences, such as the quartz movement instead of the original mechanical caliber. However, this is a concession that you'll have to make with most Zenith homage watches.
The movement powering the I-Force 18570 is the Swiss Ronda 5040.D quartz caliber. You can hate Invicta all you want, but it's hard to say bad things about Ronda movements.
Unfortunately, the Invicta I-Force 18570 has been discontinued for a few years, so your only chance to get one is through the pre-owned market. Even then, most owners tend to hoard them so you may have to search for a few months before finding an affordable example.
2. Seiko SPC079
The Seiko SPC079 isn't a Zenith El Primero homage as much as it is an alternative. Unlike the Invicta (which is basically a replica), this Seiko has many distinctive features.
Most noticeably, the SPC079 uses dauphine hands which are iconic for Seiko dress watches. Also, you get a 12 o'clock date display that's reminiscent of A. Lange & Sohne.
However, there are a few features that are undoubtedly inspired by the Zenith El Primero. For instance, the 3-subdial format and the applied trapezoids indices are unmistakably from Zenith.
Since Seiko won't build a whole new movement simply to recreate another company's chronograph functions, the subdials of the SPC079 are different from the El Primero.
For around $200, the Seiko SPC079 is a great alternative to the Zenith El Primero that doesn't have the same stigma as an Invicta or Chinese homage brand would.
3. OCHSTIN Chronograph
I was hesitant about including this watch on the list. I try to never recommend these $20-30 Chinese watches since you can't ever be sure of their origin.
The quality itself is pretty good for this price point, but I think it's hard to achieve profitability on a $20 chronograph watch without using dubious labor conditions.
However, it's my job to let you know of every Zenith homage watch out there, and I'll let you guys make the ethical judgment.
Obviously, the Ochstin chronograph is the most basic El Primero homage you can find. It has a cheap quartz movement, a mineral crystal, and hit-or-miss quality control.
If you're on a very tight budget and you're ok with a watch that might fall apart within a few years, the Ochstin might get the job done.
Zenith Pilot Homages
1. Seiko Nano Universe (SCVE045)
This is the second Seiko on the list, which might come as a surprise since they're not known for homage watches. Although they never make copycats, it's not rare for Seiko to take inspiration from bigger brands like Rolex, Blancpain, and of course, Zenith.
The feature most often associated with the Zenith Pilot are the big, bold Arabic numerals. While Seiko doesn't replicate the same font as Zenith, it's pretty clear where they took their inspiration from for the SCVE045's numerals.
Seiko didn't want to blatantly rip off the Zenith's custom cathedral hands. Instead, they chose a pair of straightforward sword hands. Additionally, you get Seiko's signature diamond-tipped seconds hand.
The 4R35 caliber powering the SCVE045 might not be as accurate nor as complex as Zenith's in-house calibers, but it will certainly be more reliable and cheap to maintain (or replace).
Also, a Seiko watch will always have better quality control and finish than a random homage brand, so it's probably your best bet if you want a Zenith Pilot homage.
2. Citizen Eco-Drive Chandler (BM8471-01e)
Hurray! Finally, a Zenith homage watch that hasn't been discontinued yet. The Citizen Chandler is still widely available today, and it's absolutely awesome!
This one has an Eco-Drive movement which is a solar-powered caliber. This means that it can go for 10 months + without a charge, and the movement itself can last for over 25 years.
This isn't as exciting as a well-built Zenith mechanical movement, but it's certainly more convenient, accurate, and eco-friendly. Like the previous Seiko watch, the Citizen Chandler's equipped with a pair of oversized sword hands.
The seconds hand has an orange color to add a bit of life to the dial, but I must admit that the shape can be quite confusing (pointing in the wrong direction).
The same orange tones are found on the border of the large Arabic numerals. These are highly legible, and provide a great contrast with the dark and uncluttered dial.
Also, the Citizen Chandler has a huge studded crown. It doesn't look like Zenith's onion crown, but it's still very distinctive.
3. Steinhart Military 42
Some of you probably can't fathom spending $500+ on an homage watch. However, the minute you get your hands on a Steinhart timepiece, you may start questioning the steep price increase that comes with an original Zenith watch.
Of course, this Steinhart is almost 3 times as expensive as the majority of Zenith Pilot homages, but you get what you pay for.
For instance, it's equipped with an ETA 2824 "Élaboré" caliber. Arguably, this is as accurate (+-7 sec/day) and as complex as the Zenith Elite movement.
Furthermore, the 2824 is ubiquitous so finding replacement parts or getting it serviced will be much easier and cheaper.
Other components are also high-end. For instance, the Steinhart Military is equipped with a domed sapphire crystal, Superluminova lume, and a DLC steel case.
This one isn't trying to hide the fact that it's a Zenith Pilot homage. Indeed, you get a similar oversized onion crown, indistinguishable cathedral hands, and almost the same font for the Arabic numerals.
Of course, you won't get the same prestige and sense of accomplishment by getting a Steinhart instead of a Zenith, but the actual components will certainly be on par.
Zenith Defy Homages
1. D1 Milano X-Ray
Zenith Defy homages are a bit harder to find than other watches because replicating it isn't as simple as copying numerals and hands style.
D1 Milano is one of the few brands that tries its hand at offering a cheaper alternative to the Zenith Defy without completely ripping it off.
For instance, this one has a circular skeleton dial instead of the iconic "car rim" design of the Zenith Defy. Also, it has a stainless steel case, instead of the more expensive ceramic case of the Defy.
The movement powering the Milano X-Ray is the Seiko NH70a. In short, this is a skeletonized version of the famous NH35 movement. It has the same exact specs (24 jewels, 21,600bph, 40h power reserve, etc..), but with an eccentric styling.
With its $725 retail price, the D1 Milano X-Ray is the most expensive Zenith homage on this list. Fortunately, this price is reflected in components like the AR-Coated sapphire crystal, solid integrated bracelet, and exhibition case back.
2. Aision Hang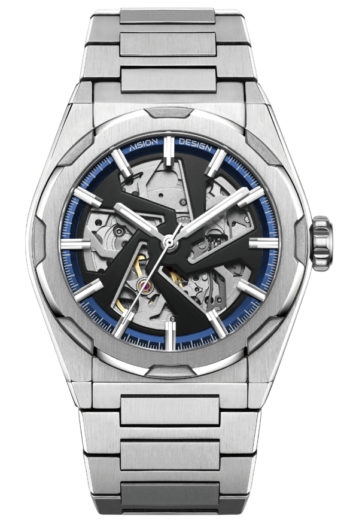 Kickstarter watches are often hit-or-miss. However, Aision's customers seem to be pleased with the Hang Zenith Defy homage.
At around $500 (depending on HKD exchange rate), the Aision Hang might be the best bang-for-the-buck Zenith homage on the market.
For instance, it's equipped with a sapphire crystal and a Miyota 82S0 Open Heart movement. Also, it has a "car rim" skeleton dial that's definitely inspired by the Zenith Defy, although it has its own charm.
It also has a few distinctive traits like the cogwheel bezel and crown set-up. Also, the bracelet has solid end-links and a butterfly clasp. However, it has the same H-link pattern as the Zenith Defy.
In my opinion, the Aision Hang is a great display of what Chinese watches can be when they don't completely rip off the original design or use cheap components.