The watch community seems to have a lot of hate for the Invicta Brand. However, one watch seems to be the exception to this rule; the Invicta 8926/8928.
With its great components, nice finish, and good material quality, it's easy to understand why the 8926/8928 gets a pass.
In today's article, you'll get every bit of information you need to determine if the Invicta 8928 is the right Submariner homage for you!
| Measurements | Invicta 8926/8928 |
| --- | --- |
| Case Diameter | 40mm |
| Lug-to-Lug | 48mm |
| Case Thickness | 14mm |
| Lug Width | 20mm |
The Invicta 8928 is unsurprisingly shaped like a modern Rolex Submariner. The 40mm case is basically indistinguishable (in terms of size of course) from the Submariner, and so is the 48mm tip-to-tip length.
However, the Invicta 8928 will be a bit thicker than the Sub since it uses an Invicta NH35 caliber. This is a good movement (more on that later), but it's much more rudimentary than a Rolex caliber, so it's thicker.
Above, you can see the 8928 sitting on my 6,25" wrist. As you can tell, the 48mm lug-to-lug is at the limit of what is acceptable for a small wrist like mine, but I still pull it off.
The 14mm thickness is a bit more substantial than I would like, so it's towering on top of my wrist, making it stand a bit awkward from time to time. As a whole, I think it's still a pretty comfortable wearing experience.
| Specifications | Invicta 8926/8928 |
| --- | --- |
| Movement | SII NH35 |
| Crystal | Flat Mineral |
| Water Resistance | 200m / 20 bar |
| Crown | Screw-Down |
| Bezel | 120-Click |
| Lume | Tritnite |
The "Specs" section is where you'll understand why the Invicta 8926/8928 gets so much praise.
Let's start with the movement; the Seiko Instruments NH35. This is the gold-standard for any entry-level mechanical watch. It's super affordable, incredibly reliable, and it has pretty amazing specs.
For instance, this automatic caliber can be hand-wound and hacked. It's also one of the most durable mechanical movements; it will often last for 10 years+ without a service.
The mineral crystal might be the least impressive part of the Invicta 8928. It's not bad in-and-of-itself, it's just comparable to everything else at this price point.
This means that it will collect a few scratches over the years. Also, the 1.5x magnification lens is not for everyone, but you can easily remove it if you don't dig the style.
The other components are pretty incredible for this price point. For example, you get 200m of water resistance and a screw-down crown, making the 8928 a proper dive watch.
You also get a 120-click bezel with a 60-minute aluminum insert. This one is very crisp and easy to use, but it does have quite a bit of play. Also, your bezel will most certainly be slightly misaligned as is the case for most affordable dive watches.
Finally, the hands & indices are coated with Invicta's Tritnite lume. This is a fancy word to describe a very poor luminous phosphorescent. In a dark setting, the indices will glow in a dull manner for a short amount of time.
| Design | Invicta 8926/8928 |
| --- | --- |
| Styling | Diver's / Submariner |
| Dial | Sunburst Blue |
| Indices | Submariner |
| Hands | Mercedes |
| Case & Bracelet | Stainless Steel |
Some people will write off the Invicta 8928 as a Rolex Submariner replica, but it doesn't deserve this title. Indeed, a replica is a watch that tries to pass off as something else (in this case the Rolex Sub).
However, Invicta doesn't try to hide the fact that it's not a Rolex. For instance, you will find a total of 7 Invicta logos on the 8928.
Dial
Seconds Hand
Crown
Case Side
Case Back
Movement's Rotor
Bracelet's Clasp
This might be a bummer if you're trying to look like a millionaire, but it might save your life from a street mugger.
One of the best parts of the Invicta 8928's styling is the sunburst dial. In a low-light setting, the dial's a dark blue, almost black. Where it shines the most is under strong lighting, where the sunburst pattern starts to appear and turns the dial to a purplish hue.
This purple color goes very well with the gold accents found on the hands, indices, bezel, and bracelet. Although it's a great match, I must admit that the Invicta 8928 is a bit too "blingy" for me.
My solution to this problem is to swap the OEM bracelet for a dark blue Nato strap. This tones down the gold trims to a more reasonable level and fixes the "awful OEM bracelet" problem.
Indeed, Invicta's cost-cutting is most apparent on the bracelet, which is a hollow-links rattly mess.
I won't spend too much time speaking about the hands & indices since it's basically a copy of the Rolex Submariner, although a bit downsized. However, the seconds hand has an Invicta logo tip, which is a cool tweak.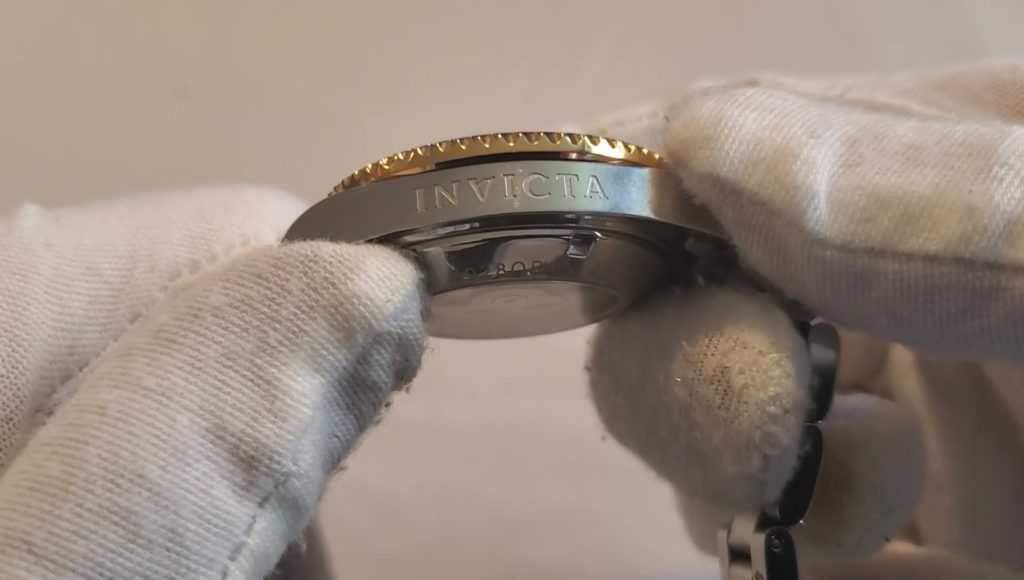 I'm truly impressed by the 8928's case finish. You get polished sides with smooth crown guards and a quality engraving for the Invicta logo, whereas the lugs are neatly brushed.
The case back is polished with a few engravings for the specs, model number, and Invicta logo. In the center of this case back is a mineral window that exhibits the SII NH35 caliber.
This isn't a particularly beautiful movement, but Invicta paints the rotor in its iconic yellow color to liven it up a bit.
| Value | Invicta 8926/8928 |
| --- | --- |
| Price | $60-$80 |
| Brand Recognition | Low |
| Warranty | 3-Year |
If you're patient, you can get the Invicta 8926/8928 for around $60 on websites like Amazon. This is truly an incredible bargain considering the components and specs of the watch.
However, I gave Invicta a "Low" brand recognition rating for its reputation in the watch collecting community. As I said, the 8926/8928 usually gets a pass, but it does have around 7 logos across the case, dial, and bracelet, so you won't be able to hide the fact that it's an Invicta.
---
In conclusion, I think the Invicta 8926/8928 is still the best affordable Rolex Submariner homage as of 2021. If you're able to overlook the stigma of owning an Invicta watch, you'll be rewarded with great specs and high material quality for an incredibly cheap price.